I have been working on root knot nematodes for a while, and here are some images featuring this interaction. The first image gives a summary, by and large, of nematodes damaging plant roots: First there are several kinds of free-living nematodes feeding directly on plant tissue (depicted here in blue color). Starting from this way of living, two major groups have evolved a sedentary life style. These are root knot nematodes, forming root galls and large gelatinous masses containing numerous eggs (see next image, upper left part) and root cyst nematodes, protecting their eggs in lemon-shaped cysts (next image, lower part).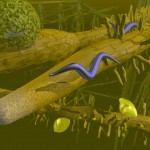 Below I will focus on root knot nematodes and the following image gives a summary of their life cycle: Nematode eggs contain already fully functional juvenile nematodes, which hatch under suitable conditions. Within the eggs nematodes can survive long periods of adverse conditions in the soil. After hatching nematodes try to find a suitable root and to enter this root either at the root tip or at root branching sites. Inside the root nematodes establish galls (here shown within a transparent root), by inducing abnormal growth of plant cells. The nematodes then feed from the contents of these structures, finally producing large numbers of eggs, protected within a large gelatinous matrix (egg mass).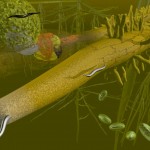 Overview root knot nematodes
The following pictures refer to individual steps of this life cycle: First nematodes have to hatch, search for a suitable root and enter this root.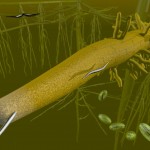 Then they migrate within this root along the root axis, until they find a suitable place,…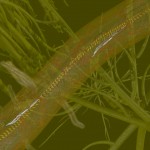 Migration within the root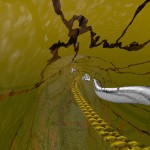 Migration within the root
… where they start gall formation by inducing abnormal growth of some root cells.
The nematodes feed from the contents of these enlarged cells and start growing themselves,…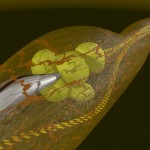 Female nematodes of sufficient size will finally start to produce numerous eggs protected in a gelatinous matrix (egg mass).
The nematode life cycle is completed within a few weeks. Therefore populations of considerable size can build up in one growing season.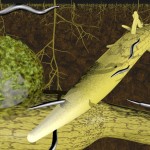 Overview root knot nematodes
Further reading: